What are your associations with winter? The beautiful layer of snow that covers everything like a white blanket? The biting cold that makes you think of nothing else but a chance to warm up? Maybe active leisure on the slopes, or cross-country skiing in Latvia's beautiful forests and other places? Whatever you associate with winter, it's hard to imagine it without a hot and tasty tea or coffee, preferably poured in stylish insulated cup.
Insulated cups are an easy way to bring your favourite hot beverage wherever you go, so you can warm up all day long. Although they vary in size, construction and features, insulated cups have the ability to keep your drink warm for several hours. They can also keep cold drinks refreshingly cool for longer periods of time.
To help you navigate our wide range of insulated cups and choose the one that best suits your needs and style, we've put together this guide where our experts highlight the best insulated cups for each person's requirements, application and lifestyle.
How do insulated cups differ?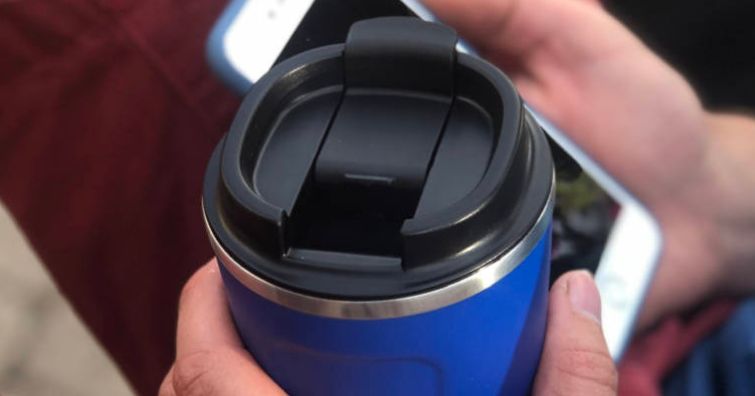 Different insulated cups are suitable for different applications. They differ in construction, design and features that enhance the enjoyment of your drink. The main criteria to consider when choosing a cup are:
Thermal resistance. The thermal resistance of an insulated cup is a measure of its ability to prevent the transfer of heat from the contents of the cup to the outside environment. It is defined as the ratio of the temperature difference between the inside and outside of the cup to the rate of heat flow through the walls of the cup.
Cap type. Insulated cups often come with a cap that helps to further reduce heat transfer and prevent spills. The caps are often designed to create a seal around the rim of the cup, which helps to trap heat or cold inside.
Size and capacity. Insulated cups can come in a variety of sizes, but they often hold more liquid than regular cups. This is because the double-wall construction and added insulation takes up space, reducing the amount of liquid that can be held.
Design.
These four parameters determine for which application each insulated cups is best suited. We will look at each of them in more detail later in this article.
Thermal resistance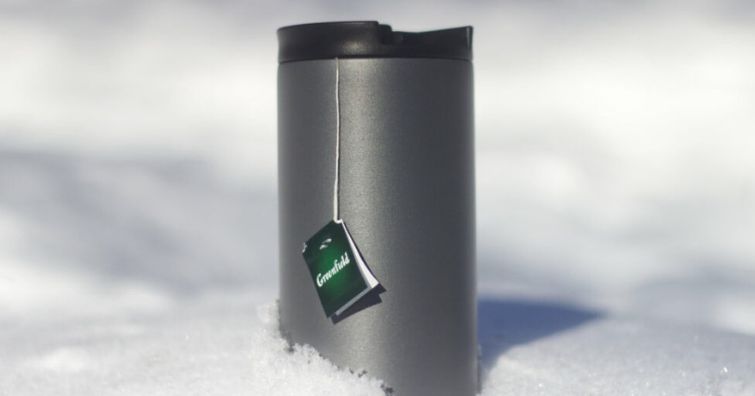 Several factors influence thermal resistance, such as construction, volume, type of lid and materials. Insulated cups with double-walled vacuum insulation are the best at maintaining the temperature of the drink. We therefore recommend that you read the product description before buying an insulated cups to make sure that it uses this type of construction. The most important factor when choosing an insulated cup is its ability to keep your drink hot or cold for several hours.
In general, a higher thermal resistance indicates better insulation performance, as it means that less heat is being transferred from the inside of the cup to the outside environment. However, it's worth noting that other factors such as the initial temperature of the contents and the surrounding environment also play a significant role in how long the insulation can maintain the desired temperature of the contents.Thermal resistance can differ – there are insulated cups that keep your drink hot for 5-8 hours. And then there are cups that keep it hot all day. There are 3 particularity good insulated cups with great thermal-resistance :

Esbit Majoris is particularly thermo-resistant, promising to keep your drink warm for up to 12 hours. It's a durable, high-quality insulated cup that's perfect for hiking and outdoor activities.
The PEETA insulated cup, which also has copper insulation in addition to the double-walled vacuum technology, also keeps the temperature of your drink for a long time. This will keep your drink hot for about 8 hours.
Another insulated cup that stands out for its thermal resistance is KALEN. It is a compact and elegant double-walled vacuum insulated cup with copper insulation. It allows you to enjoy hot tea or coffee for 8 hours.
Cap type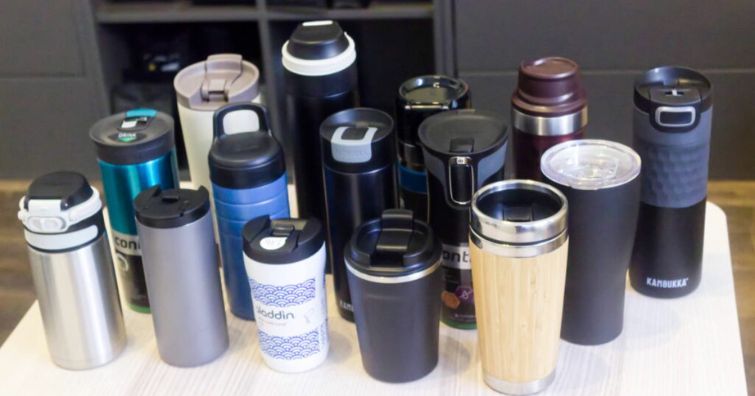 One of the most important factors to consider when choosing your insulated cup is the cap. This determines both how easy it is to uncap the cup as well as to drink from it. Cap also prevents spills in your bag, on your clothes or in the car. Each type of cap suites to a specific application.
The Kambukka Etna insulated cup has a push-button cap as well as a locking switch. This insulated cup is perfect for drivers as it allows you to enjoy your drink without taking both hands off the wheel.
Aladdin insulated cups, on the other hand, feature a Leak-Lock cap. You can simply flip it open to take several sips of a warm drink. Once closed, the cap keeps the drink safe from spills when carrying it. Cup can also stay locked to prevent it from accidentally falling open and spilling your drink in your bag.
The LAGOM insulated cup is perfect for everyday use in the office, because it has a simple and practical flip-up lid with silicone gasket. It has an easy-care mechanism that protects your drink from spills.
Capacity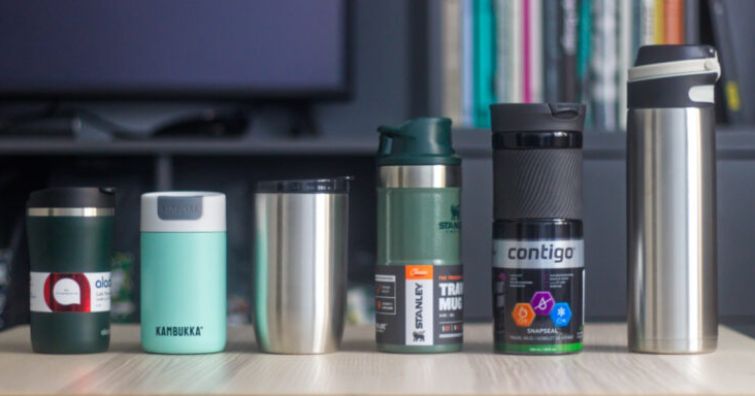 We offer insulated cups in different sizes – from 250 ml to 600 ml. Of course, as the volume increases, so does the size of the cup, so you need to decide how big of an insulated cup you need.
Smaller cups are easier to fit in your bag and you won't have to worry about fitting into coffee machines in cafes and shops, while larger cups allow you to take your hot drink with you throughout your hike, drive or work day.
Small insulated cup can hold up to 350 ml. For example, the Kambukka Olympus 300ml is a compact and stylish insulated cup that comes in a variety of colours to suit every taste. It is easy to use and maintain and is spill-proof.
The average cup has a capacity of 350 to 500 ml. They are convenient and practical for everyday use as they are roomy and compatible with most car cup holders. For example, the Stanley Classic One-Hand with a 350ml capacity is a quality choice for everyday use, both in the office and on leisure activities.
Large insulated cups are over size 500ml. For people looking for a spacious insulated cup we recommend the Contigo Byron 590ml. It is an elegant and cup with a modern design.
Design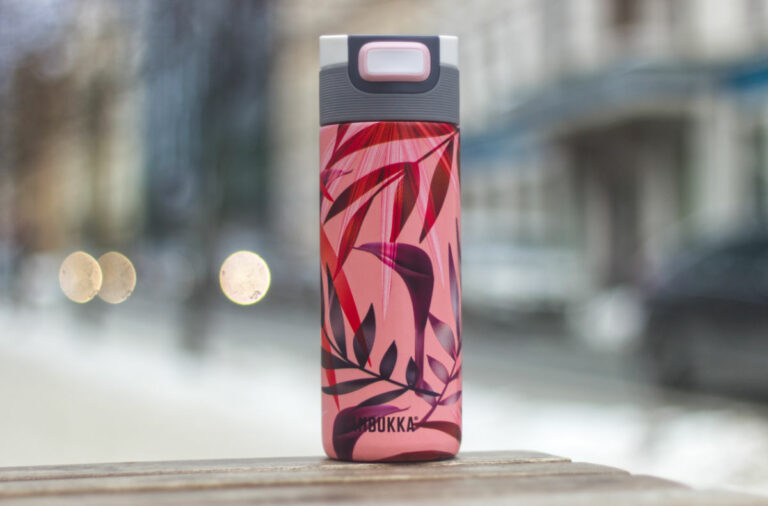 For a insulated cup to be enjoyable, it needs to suit your individual style. Whether you prefer elegant and subdued blacks, bright and attractive colours or eye-catching graphic designs, you can find a insulated cup that suits your taste and personality.
Kambukka Etna, for example, is available in a variety of variations, one of the most striking being Trumpet Flower. It's a feminine and noticeable graphic design that will make every day feel special.
People who appreciate practical and quality values will like the Stanley Classic One-Hand best. It is perfect for everyday use, as well as for hiking and outdoor activities in the most extreme conditions. The robust steel body is not only high quality and functional, but also gives the Stanley insulated cup a masculine robustness.
The Contigo West Loop insulated cup features a modern and comfortable design in a variety of colours. Its shape is curved to make the cup more comfortable to hold. Its button is also large and easy to press, so you can easily drink from the mug during a leisurely stroll on the city streets or on a car trip.
These are the most important factors that we recommend you take into account when looking for the right thermal cup for you. We hope this article helped you choose the right product! You can find our full range in the "Insulated cups" section of the shop.