The good thing about branded reusable water bottles is that they can be thoughtful gifts that are beneficial for everyone. Not just those who want to have a lovely water bottle with them when they go out to eat, travel abroad, or work out.
One of the most practical items you can have in your arsenal of gifts for your customers and employees, who work closely with you, is this one. Many people will want to own it, and it will also be one of the things they will remember you for because of how useful it was when you gave it to them. Branded part of the water bottle will make sure of it.
In this article we want to find out how branded reusable water bottles are such a popular option for corporate gifts.
Pros of branded reusable water bottles
Giving a business gift is often simple, but selecting the ideal promotional item requires some thinking. This chapter of pros of branded reusable water bottles should persuade you that it is a great corporate gift for many occasions.
1. Useful gift choice
The best corporate presents should always be practical. A practical business present will be used repeatedly throughout the year as well as during the holiday seasons . As a result, it will act as a constant reminder of your brand.
Reusable water bottles are not decorative or disposable objects. Your customers, staff, and business partners can all benefit from using it on a daily basis. Because of this, personalized water bottles make excellent business presents for both men and women.
To make your choice easier, check out a great article about TOP Water bottles today to see what is the best option. 
2. Can be personalized
Pens, notebooks, and mouse pads are certainly practical corporate gifts. However if you really want your business to stand out, you should provide something more distinctive. A sustainable water bottle is special since it will survive for many years, is usable by everyone, and is a suitable present for many kinds of businesses.
The fact that reusable water bottles may be highly customized makes them even more distinctive. You can choose from a variety of sizes, add your company's logos, and pick the color that most accurately represents your enterprise, clients, or workers.
3. Sustainable
Your business presents must also be sturdy and timeless if you want your brand to be remembered by the recipients for months or years as opposed to just a few days. A stainless steel reusable water bottle of superior quality can last a lifetime if properly maintained.
Your brand will continue to gain from free advertising five, ten, twenty, or even fifty years from now. Additionally, everyone can profit from an insulated water bottle that maintains the temperature of hot beverages while keeping cold beverages cool throughout the entire year.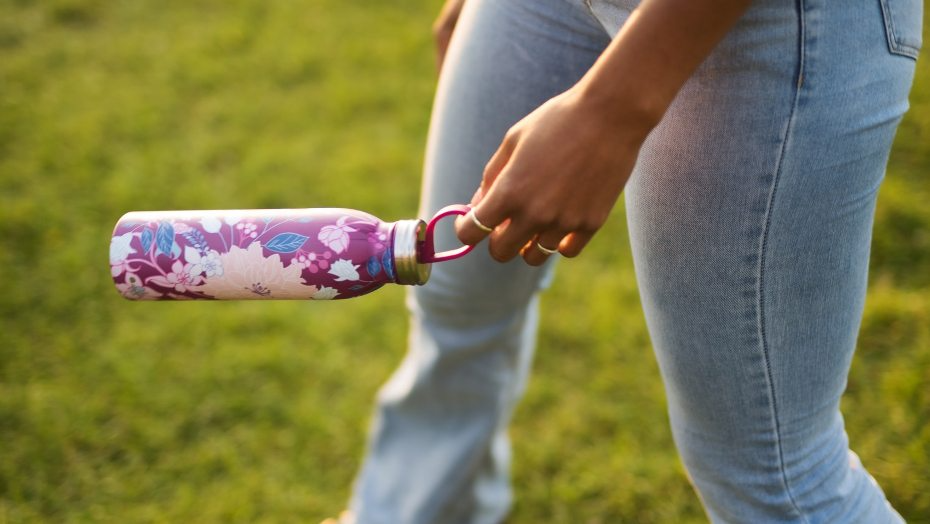 Or maybe it could be an insulated cup. In that case make sure to check out our recommendations in our article called How to choose the right insulated cup.
Cons of branded water bottles
Here are some cons of branded water bottles that you need to look out for.
Lack of print quality
One of the potential drawbacks of using branded water bottles as corporate gifts is the issue of quality print. If the printing on the bottle is of low quality, it can detract from the overall perceived value of the gift and reflect poorly on the company's brand image.
Besides, nobody will want a water bottle that is supposed to be long lasting and its design is barely there after a few washes. Therefore quality is the key. Don't go cheap with it!
Lack of personality
Another con of reusable water bottles that are branded is the branded part. If the branding on the bottle is too overtly "advertized," it may come across as pushy or insincere. Then it can potentially turn off recipients and diminish the effectiveness of the gift as a marketing tool.
Balancing the need for effective branding with the desire to provide a useful and high-quality gift can be a challenge when selecting promotional products like water bottles. However it can be done! Especially for the smaller organizations where it is easier to get to know each employee.
In conclusion, branded reusable water bottles are a fun and useful corporate gift to both employees and customers. Just be sure to take into consideration the cons we provided and your gift will be a good choice!