A sip of hot tea or coffee can improve anything. Whether it's a long day in the office, a lengthy drive in the car or an intense skiing trip, hot drinks will make it better. That's why we love our travel mugs, especially those with an easy-to-use push button.
In this review, we will thoroughly test three very popular travel mugs – Stanley Classic Trigger-Action, Kambukka Etna and Contigo West Loop. We tested their thermal performance, resistance against spills, and many other factors, to scientifically conclude which of these travel mugs is the best for you.
We found out that all three travel mugs are great products, offering convenience and high quality. Each of these has some cons as well, so making the right choice requires thorough testing, which we have done in this review.
We reviewed:
Kambukka Etna Grip Black 500ml, a modern and stylish travel mug, made by the innovative Belgian brand Kambukka. It offers great quality and thermal performance, a convenient 3-in-1 lid, and many unique color options.
Contigo West Loop Tangerine 16oz, a practical and easy-to-use travel mug with a curved design that fits well in the hand. It's a solid choice for the price.
Stanley Classic Trigger-Action Hammertone Green 16oz, a durable thermal mug made by the legendary American brand Stanley. They stand by this product's quality by offering a lifetime warranty.
Table of contents
Design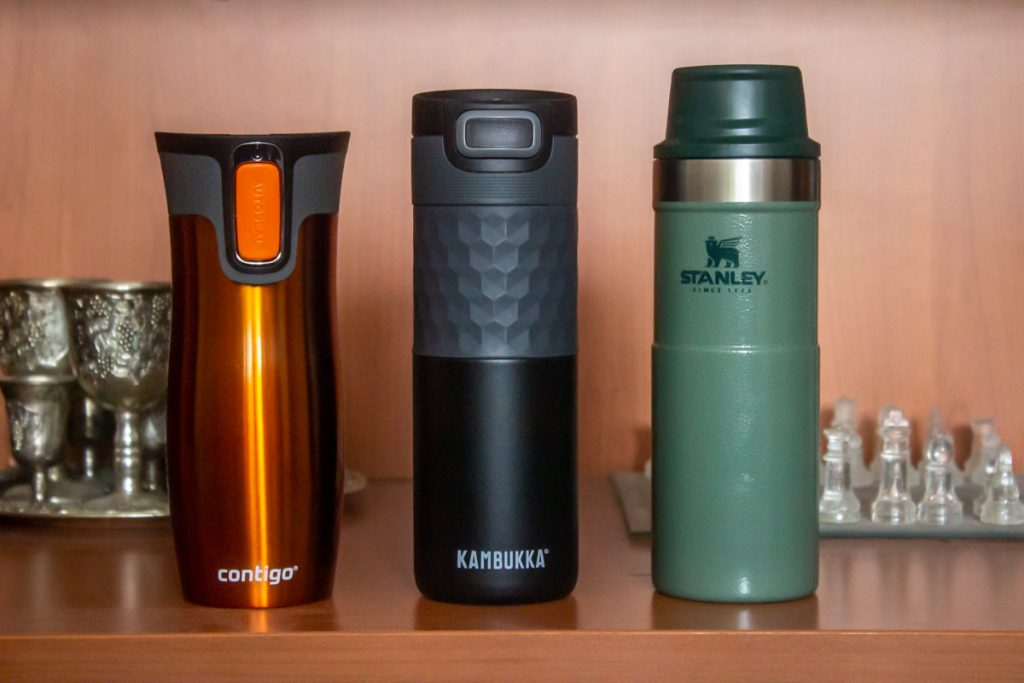 Three seemingly similar travel mugs – three completely different designs. Each of these mugs is created in a completely different style. Even though all three are made from high-quality stainless steel, the difference in feel, ease of use and functions becomes apparent the more you use them.
Kambukka Etna is a great choice for fashion-conscious coffee or tea enthusiasts, mainly because its cylinder shape is elegant and minimalistic. It is available in many different variants, ranging from the ever-so-stylish Black to vivid hues and even amazing and elaborate graphic prints. Its subtle yet confident design will fit in any office environment. Etna mugs also have a non-slip bottom pad, which makes them more grippy while resting on a table or in a cup holder.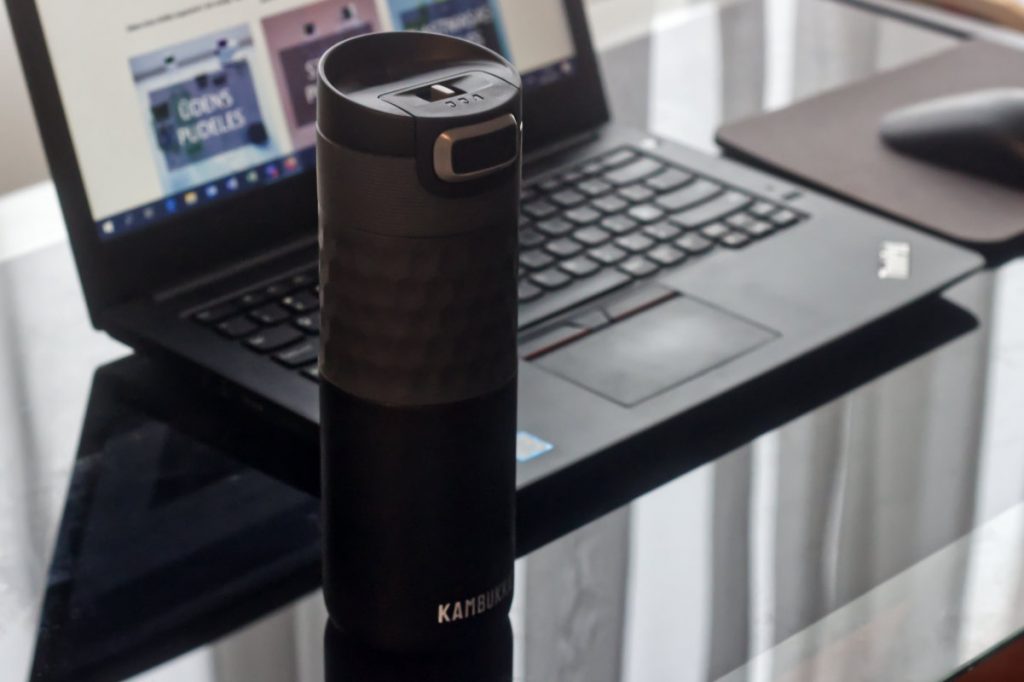 Contigo West Loop has a modern and ergonomic design. Its curved shape makes it especially comfortable to hold in your hand. It also has several design options, ranging from matte black to stunning colors like our reviewed Tangerine. Unfortunately, the glossy body is a bit more prone to scratches if you're not careful.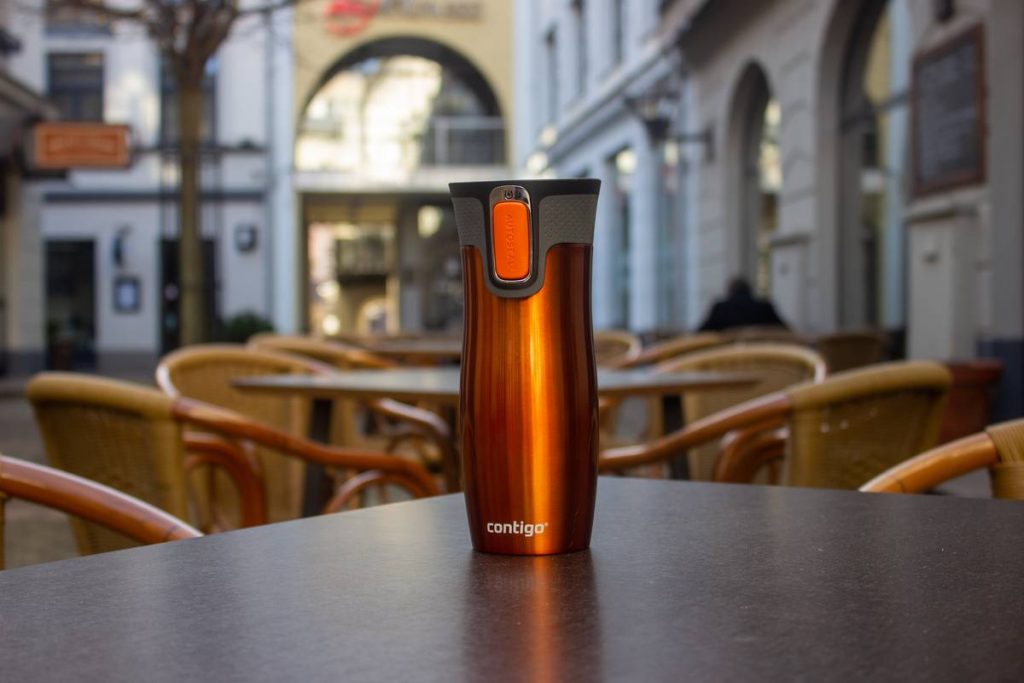 Stanley Classic Trigger-Action looks and feels like a tank. In its signature Hammertone Green it almost resembles military equipment. It has a nice, rugged texture, which compliments the overall simple and no-frills design to leave an impression of a product that will last a lifetime. For the sake of simplicity and durability, it omits some of the features that its competitors have, such as silicone grip or non-slip bottom.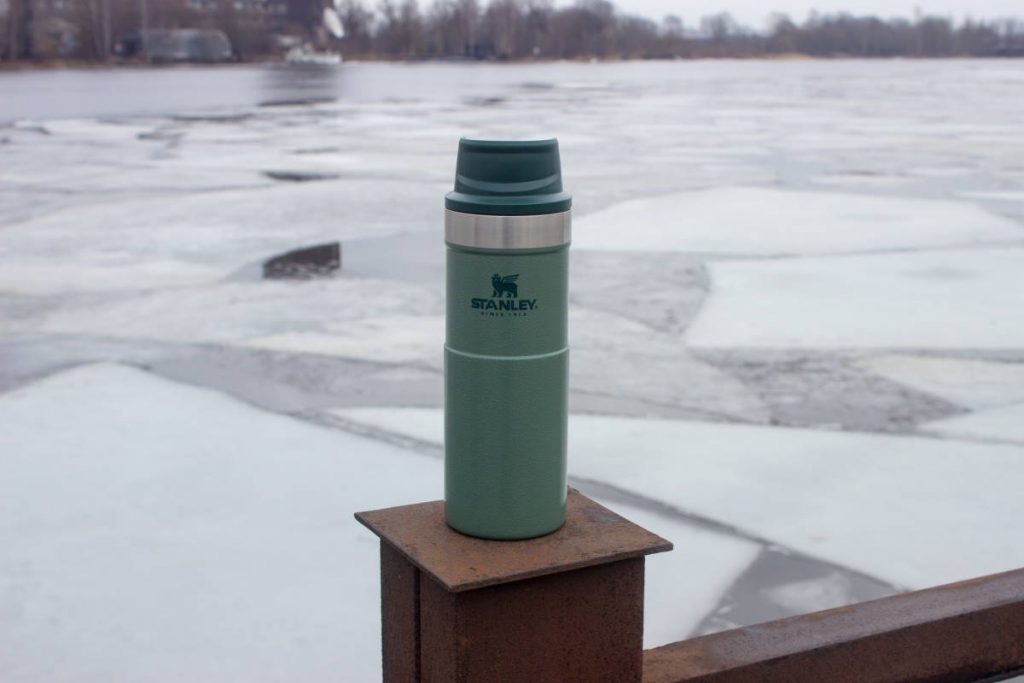 Each of these mugs has a unique style and design, however, we think that the most practical travel mug in daily use is Kambukka Etna. Its Grip model has a silicone grip that makes it comfortable to hold in hand, especially in chilly weather. West Loop boasts an especially ergonomic shape, which is great for carrying it in hand or car cup holder. However, people looking for a practical and durable travel mug with a lifetime warranty will find that Stanley Classic Trigger-Action is the best choice.
Lid & features
All of these thermal mugs are similar in that they have a push-button lid. It is a great choice for people who like to enjoy their coffee or tea while driving their cars or trucks. Just press the button to drink, and depress it to automatically seal the lid. We love this kind of travel mug because it's convenient for daily use.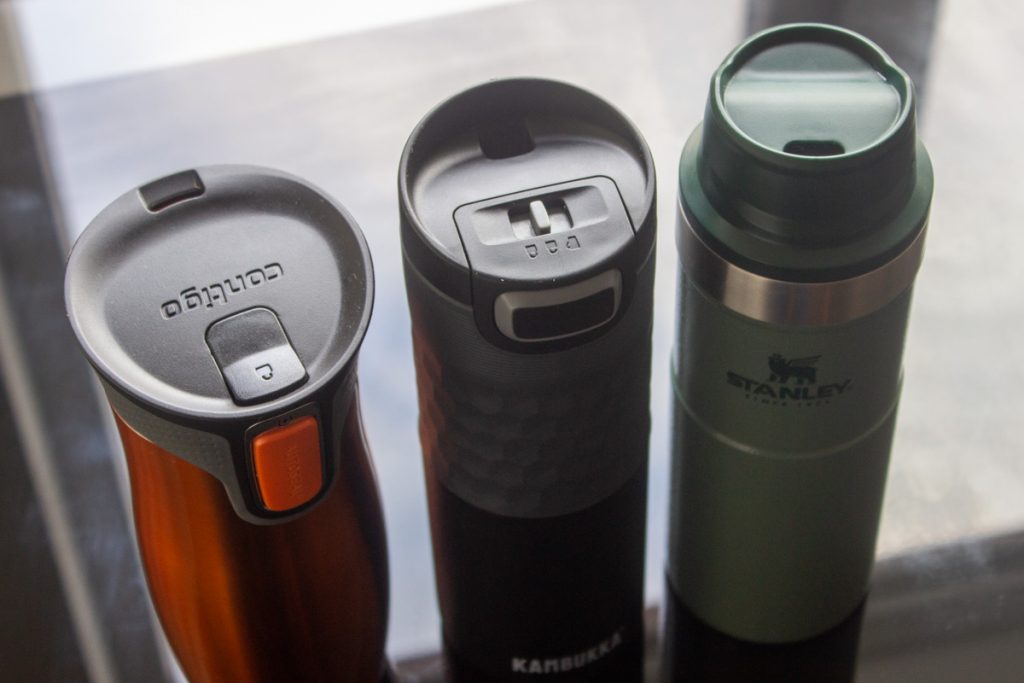 Kambukka Etna's 3-in-1 lid can boast the most features. It has a switch with three positions – locked, unlocked, and open. When it's locked, the button cannot be accidentally pressed, thus preventing spills when carrying it in a bag. When it's unlocked, you can press the button to drink as usual, however, when it's open, you can enjoy the drink without pushing the button.
West Loop has a simple locking switch that can securely lock the button to avoid accidental spills. We liked the wide drink opening, which made drinking pleasant and convenient.
Stanley Classic Trigger-Action, however, lacks a locking switch, and that, in our opinion, is the biggest drawback of this travel mug. We weren't confident that this mug would be spill-proof when carrying it in a laptop bag, however during the review it thankfully didn't make any spills.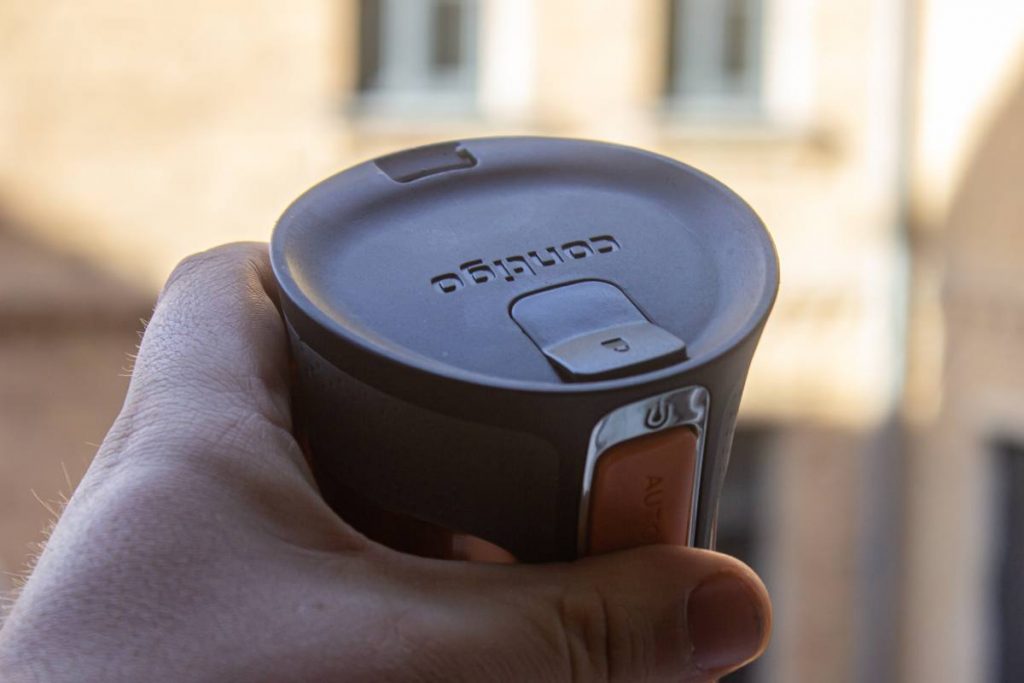 Overall, our favorite lid was Contigo West Loop's, because it made for easy drinking, and it's practical in daily use. Kambukka Etna has an impressive list of features, and we found the always open feature useful in some scenarios. Stanley was lacking the crucial feature of a locking switch, however, the shape of the push-button helped to avoid accidental presses while carrying it in the bag. Also, the omission of a locking switch means that the lid has fewer moving parts, which helps with long-term durability and cleaning.
Spill-proof test
All three travel mugs promise complete safety against spills because they are hermetically sealed. During the review, we tested all three by carrying them in a laptop bag, and none of the mugs spilled even a drop of the drink.
To make it more scientific, we conducted a test in which we put each of the mugs upside down on a sheet of paper towel for 12 hours to spot any possible leaks. All three mugs passed this test with flying colors.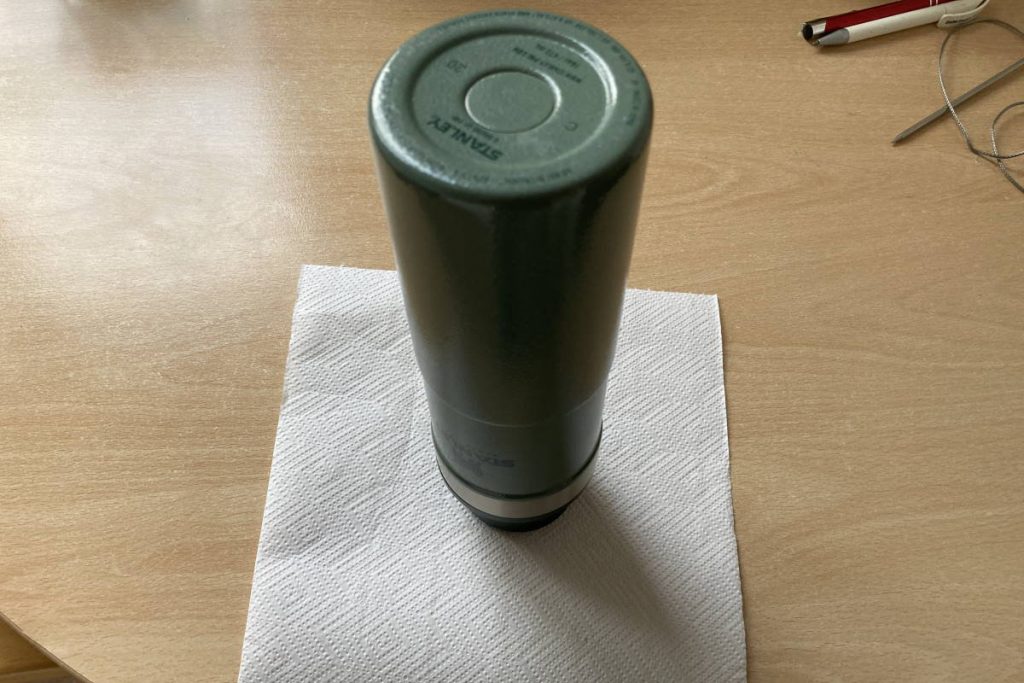 Therefore we can conclude that all three mugs are completely leak-proof. It's worth noting that Stanley lacks a locking switch, which would protect it against accidental button presses while carrying it in a bag. Even though it didn't spill even once during our tests, we must mark the lack of a locking switch as a con.
Size
All three mugs are pretty sizeable, allowing you to take enough tea or coffee to last several hours. If you find them too large, it's worth noting that all three models are available in other sizes as well – Stanley additionally offers 12oz and 20oz options, Kambukka – 10oz, and Contigo – 10, 14, 20, and 24 oz.
| | | | |
| --- | --- | --- | --- |
| | Kambukka Etna Grip 500ml | Contigo West Loop 16oz | Stanley Trigger-Action 16oz |
| Capacity | 17 oz (500 ml) | 16 oz (470 ml) | 16 oz (473 ml) |
| Weight (empty) | 0.76 lb (348 g) | 0.72 lb (326 g) | 0.75 lb (342 g) |
| Weight (with water) | 1.86 lb (848 g) | 1.75 lb (796 g) | 1.79 lb (815 g) |
| Diameter | 2.79″ (7.1 cm) | 2.75" (7.0 cm) | 2.75" (7.0 cm) |
| Height (with lid) | 8.62" (21.9 cm) | 7.87" (20.0 cm) | 8.85" (22.5 cm) |
| Height (without lid) | 7.16" (18.2 cm) | 6.85" (17.4 cm) | 7.32" (18.6 cm) |
Thanks to their push-button, which is convenient for one-hand use, these travel mugs are well suited for avid drivers. That's why we tested them in different car cup holders. We tried them out in Toyota Corolla (2006), Ford Focus (2014), and Chevy Tahoe (2012), and none of the mugs had any issues fitting in the cup holders.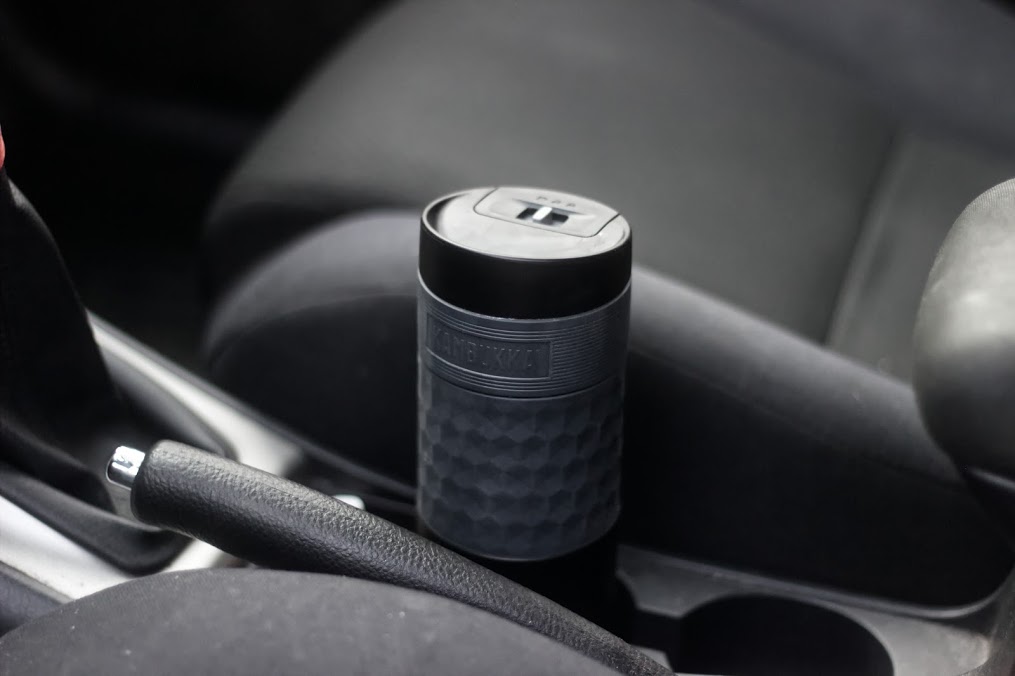 However, these mugs are rather tall, so they will have issues fitting in coffee makers. If you buy your coffee or tea outside often, none of these mugs will be a good choice. Stanley is the tallest, spanning 7.3" (18.6 cm) without the lid, Kambukka is in a close second, but Contigo is the shortest.
Cleaning & care
To make your travel mug last a long time, proper cleaning & care is crucial. You should wash your mug on a regular basis to avoid mold or bacteria buildup, bad taste, or smell.
Stanley Classic Trigger-Action is dishwasher safe – both the mug and the lid. Etna and West Loop mugs, however, are not dishwasher safe – only the lids are. Both Kambukka and Contigo recommend washing the mug with hands.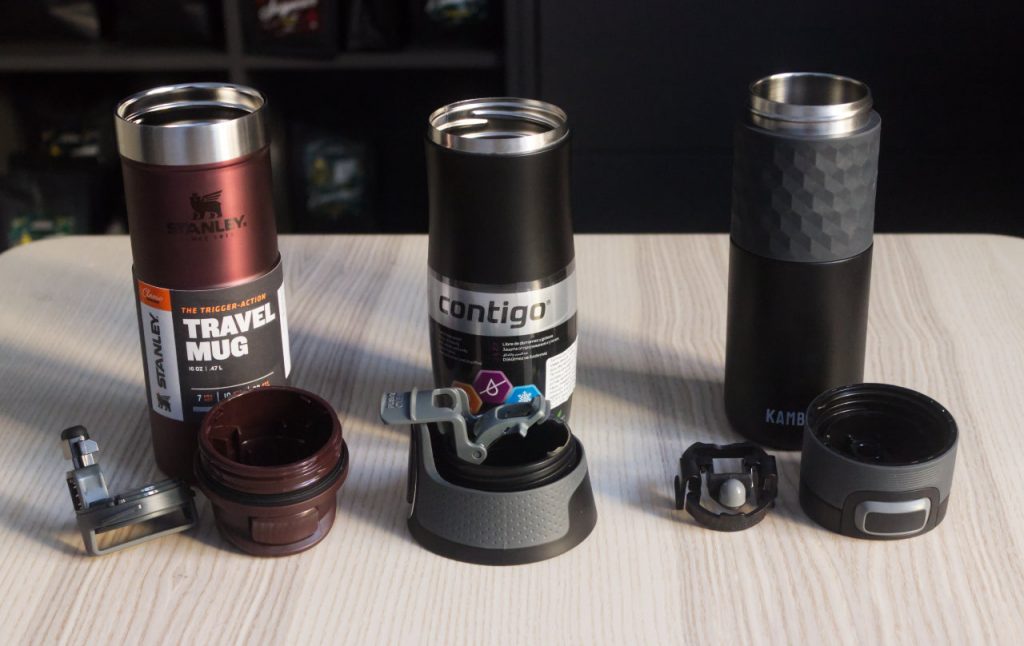 Stanley and Kambukka lids can be completely disassembled, which makes it easy to thoroughly wash them and clean coffee, milk or tea stains. Contigo, however, is only foldable, and you can't take the button push mechanism out completely. While it makes it easier to not lose the parts, it complicates the cleaning process.
Overall, Stanley Classic Trigger-Action is the easiest to clean. Not only it is dishwasher safe, but its simple lid is also easy to disassemble and clean. Kambukka's lid is a bit too complex, with many hard-to-reach corners and parts, but the West Loop is limited by its foldable design.
Thermal insulation test
All three mugs use double-walled vacuum insulation, which is the best thermal insulation method. They are built with two stainless steel walls – inside and outside, which are separated by vacuum to reduce convection, thus keeping the drink's heat within the mug.
Most thermal mug brands give predictions on how long their product will keep your drink hot and cold. Unfortunately, few mention their testing methods, and what do they consider 'hot' and 'cold'. Kambukka, for example, promised that Etna will keep your drink 'warm' for 9 hours, but Contigo, on the other hand, gave only a modest 5 hours for their West Loop. Stanley says that Trigger-Action will keep the drink 'hot' for 7 hours.
Without exact degrees, these numbers are rather meaningless, which is why we conducted our own tests. We heated up a kettle of water to its boiling point and filled each mug to its maximum capacity. The mugs were completely closed, and they were stored at room temperature (68°F, 20°C). Every two hours, we opened the lid for a short time to measure the water temperature.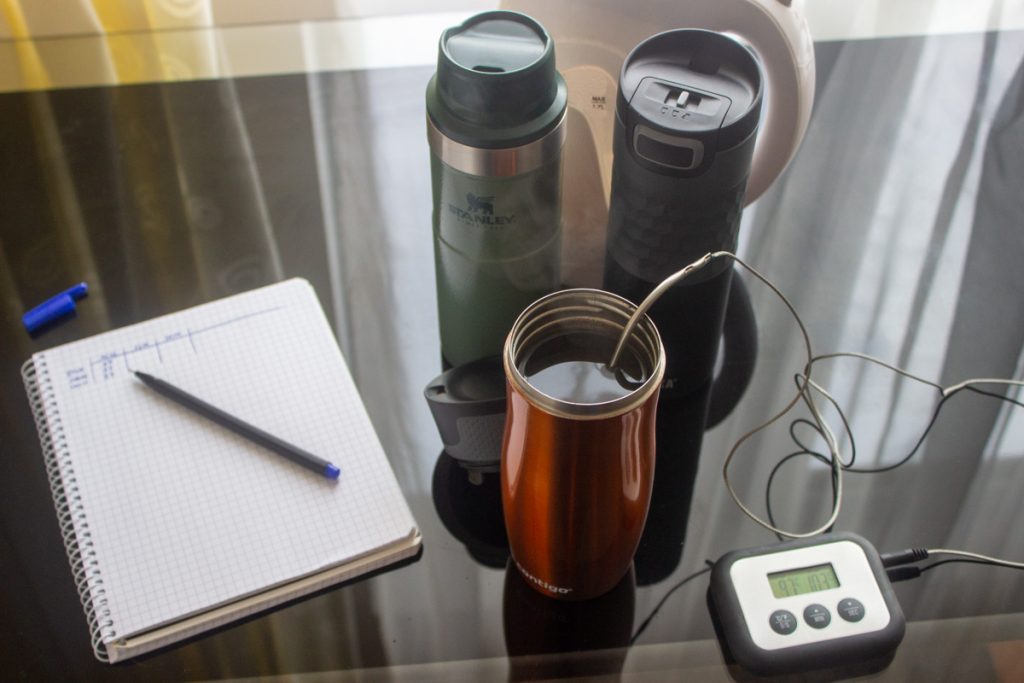 Results
All three mugs delivered good thermal performance, keeping the drink hot for several hours. They will let you enjoy your hot or cold drinks all day long. Stanley was a clear thermal performance champion – its thermal insulation was impeccable. Second place goes to Kambukka Etna, and Contigo West Loop came third.
We believe that a drink can be called 'hot' if it is above 140°F (60°C), and "warm" over 100°F (38°C). By these measures, Stanley kept the drink hot for 7 hours, which is exactly what they promised. Kambukka did it for 5 hours, but Contigo – 4h.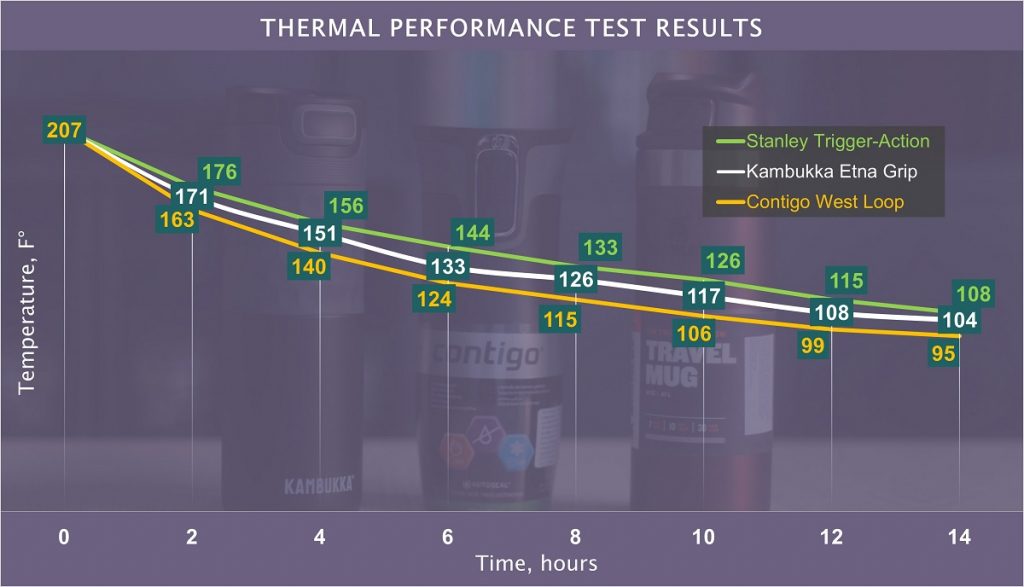 It's worth noting that all three mugs have above-average thermal insulation, and these results are excellent for a travel mug of this size and feature set. We usually drank their contents way before they got lukewarm, so for daily use – office, driving, or walks – all three provide satisfactory insulation. If you need exceptional thermal performance for all day long outdoor activities, Stanley is the obvious choice.
The best travel mug
It's extremely hard to say which one of these is the best. Each one of these have their pros and cons that make it more suited for a particular buyer, but overall all three are excellent travel mugs that will satisfy most users.
That being said, the best thermal mug for people with an active lifestyle is Stanley Classic Trigger-Action. It's a durable travel mug that will withstand even the most extreme conditions. It excels in thermal performance and will keep your drinks piping hot for 7 hours. It also has a lifetime warranty provided by Stanley. It has only two drawbacks. It lacks a locking switch, making carrying it in a backpack a bit uneasy, and it is the tallest mug of the bunch.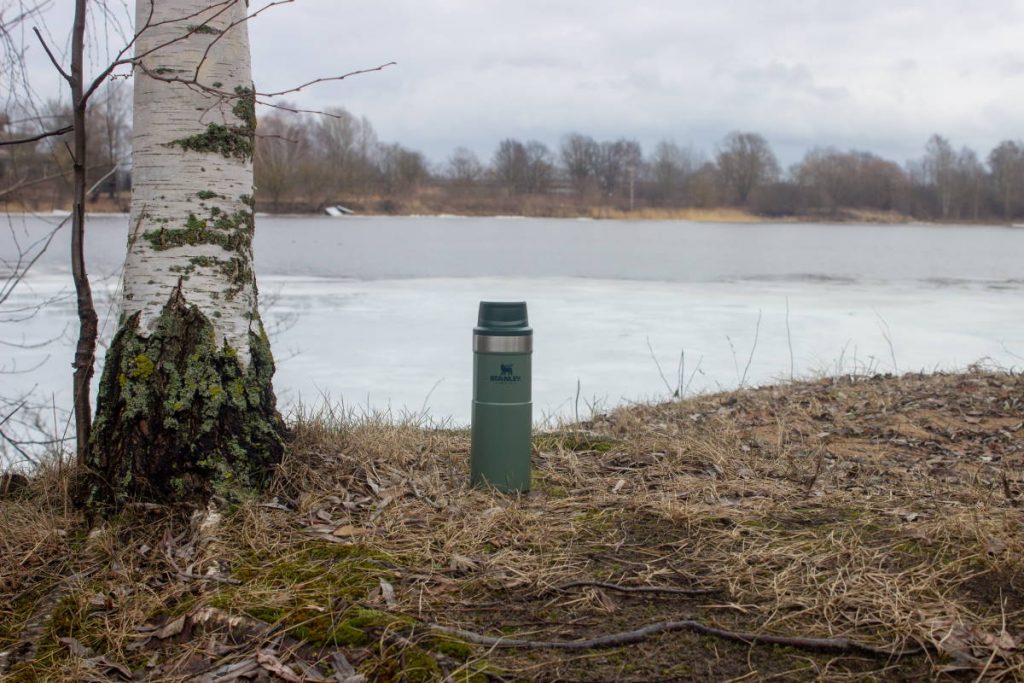 Contigo West Loop is a great choice for daily use because its ergonomic shape fits very well in hands or car cup holders. It looks modern and stylish. Even though its thermal performance lags a bit behind the other two, its lightness, practicality and price more than make up for it. It's the price-performance champion of the three.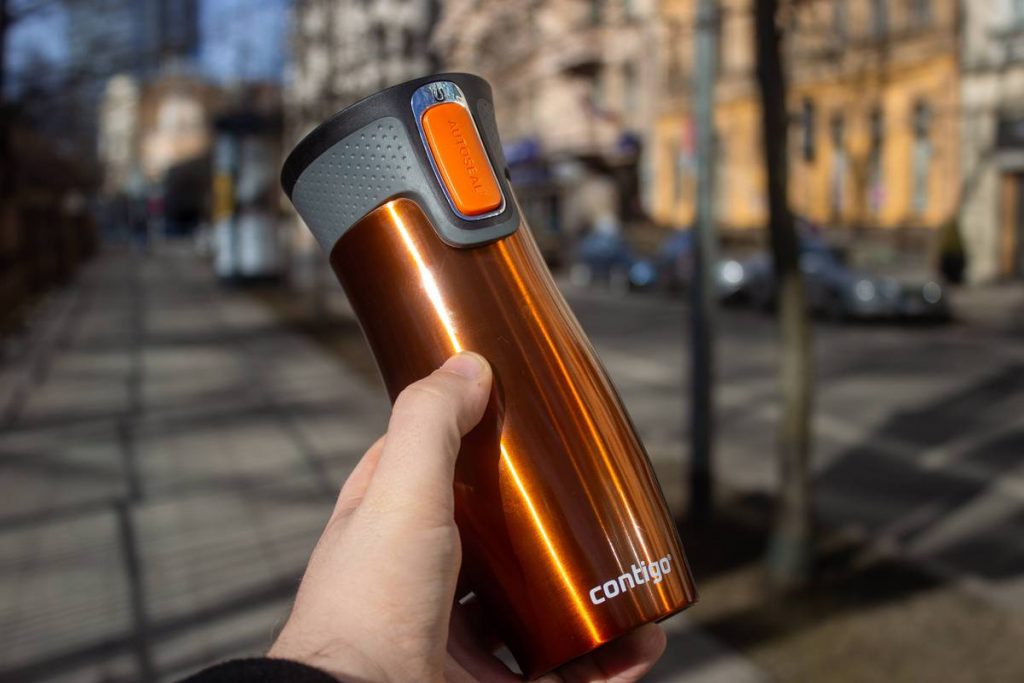 Kambukka Etna can do seemingly anything. It looks great, it has good thermal insulation, its innovative 3-in-1 lid is convenient, and it has many color, size and grip options for anyone's taste. It's the best all-rounder of the three, and it's as easy and convenient to use in the office or car as it is on a skiing trip or a bicycle ride.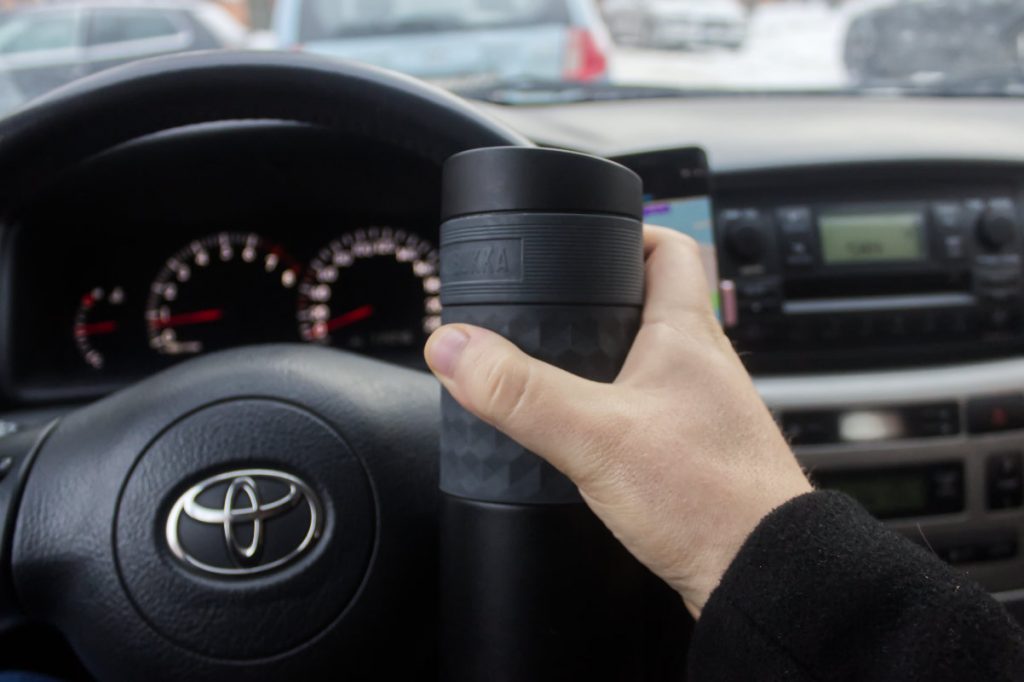 We hope that this comparison helped you decide which travel mug is the best for you. We enjoyed using every one of these travel mugs, and you can't go wrong with either of these products.
Hope you enjoyed our article!
We found an interesting tes regarding thermos, check it out – Best thermos test.
May your tea and coffee always be perfectly warm! Cheers!